Welcome to the
Patty Smyth Web Page!
Last Update: July 8, 2014
(Tour Dates)
("Silent Night")
(Hungerstock)
(Patty's Web Site and MySpace Page)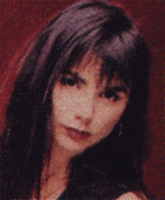 You've found the Patty Smyth Fan Club, dedicated to Patty Smyth, the lead singer of Scandal in the 80's, solo artist through the 90's, and now reunited with Scandal and back on the road. Click here to take a look at Patty's Discography or her Biography.
Please don't confuse Patty with Patti Smith, the poet/writer/singer famous for "Because the Night".
I'm quite happy to say I can no longer claim to be the only Patty Smyth web site. :) Patty has a new page of her own at PattySmythAndScandal.com. She also has her own MySpace Page. She has tour dates (it's where I've been getting them lately) some really cool new pictures, and on the MySpace page you can leave comments and add her to your Friends list. :)
Current News
Tour Dates for 2014
Sorry for being so late with the tour dates, the first date is tonight. Hopefully most of you already caught it on Patty's own site. Most of these dates are with "Replay America", including the Go-Gos, the Motels, and Naked Eyes. Here are the dates for the months of July and August:
7/8 Wolf Trap for the Performing Arts - Filene Center - Vienna, VA 8:00 PM
7/9 Mayo Performing Arts Center - Morristown, NJ 7:30 PM
7/11 PPL Park - Chester, PA 7:30 PM
7/13 Fraze Pavilion for the Performing Arts - Kettering, OH 7:30 PM
7/14 DTE Energy Music Theater - Clarkstown, MI 7:30 PM
7/17 Chateau St. Michelle - Woodinville, WA 7:00 PM
7/19 Thunder Valley Casino Resort - Lincoln, CA 6:00 PM
7/20 The Mountain Winery - Saratoga, CA 7:30 PM
7/23 Fiddler's Green Ampitheatre - Englewood, CO (not confirmed, Replay America is playing a date at the Talking Stick Resort in Scottsdale, AZ, but Scandal is NOT in the lineup)
7/25 OC Fair and Event Center - Costa Mesa, CA 8:15 PM
7/26 Agua Caliente Casino - Rancho Mirage, CA 8:00 PM
8/23 The Stephen Talkhouse - Amagansett, NY 7:00 PM (solo)
I'm trying to keep up with the site, and I will try to make sure I keep the tour dates as far in advance as I can. Do check out Patty's own site from time to time, that way you can be sure not to miss any updates direct from Patty herself.
"Silent Night" on NCIS
Patty Smyth and Scandal recorded a version of "Silent Night" which will be featured on NCIS on CBS, on 12/13/11. I did not see the episode, so I can't say what the title was, so you an watch for a rerun. (or search YouTube :D) However, if you missed it, the song itself is available for download.
You can download the song for yourself off of the Patty Smyth and Scandal Web Page. This link will take you directly to the Shop page. It's not a whole new album from Patty, but hey, I'm not complaining! :)
Hungerstock
Hungerstock is a benefit concert for the Food Bank of South Jersey, and is obviously a cause close to Patty's heart. Patty's obviously proud of being a New York/New Jersey girl, and of course with our economy in the shape it's in, hunger is becoming a big problem.
I'm glad I can do my part in drawing attention to this event. (obviously the tour date has passed now, but I'm sure donations to the Food Bank site would be appreciated)
To check out the site, go here.
Patty appears on Good Day NY to raise awareness for Alzheimer's
Patty appeared on Fox NY's Good Day NY to support the Alzheimer's Association, and talk about a benefit that they are holding for the organization. Patty is apparently part of their board, and explains why she got involved in the interview. It's very interesting, and of course Patty looks great as always. She mentions her husband, John McEnroe (she's introduced as Patty Smyth-McEnroe) and talks a little about her family.
The video clip of the interview is no longer available. I thought I would continue to offer a link to the Alzheimer's Association website, which is at www.alz.org. It's a good cause, and I'm happy to link to it.
Patty Interviewed on "Night Talk"
This news is a little late, but I actually found out about the show the night before it aired. So with such short notice, and the fact that it was possible some folks don't even get the channel (I don't...) I thought it would be a waste of time to rush an update to the page.
The good news is that now that the interview has aired, it is available on the Internet for download. One site I know has it is Clip Syndicate. It may also be available on YouTube and the like, but I really don't know how long the clips will remain around, so check them out while you can. (As of 5/13/12 it is still up, so the link I posted is looking good for now)
The interview is from "Night Talk", a show on Bloomberg Television. It's an interesting interview, Patty talks about the music industry, and why she stayed away from it for so long. In the third segment, she mentions that she has plans for a new album, and so I will definately be staying on top of that.
Patty also has a new manager, and so she's definately quite serious about getting back to making music again.
Various Updates
In addition to the updates above, I have also added a fan art picture to Patty's Pictures Page. It is my own drawing, and one I've put off posting here, probably for too long.
Be sure and check out the pictures that Steve Latham has taken of Patty and Scandal on tour. You can find the page at Steve Latham Design.
Patty has a MySpace page herself, now. It's at www.myspace.com/pattysmythandscandal. It includes all of the tour dates for Scandal's upcoming tour, and in fact I have updated my own tour dates below (above, now, I moved the section since it's been updated) with the information there.
Rare Scandal Videos on YouTube
I just recently got an email pointing out three videos that have appeared on YouTube. They're the demo videos that Scandal recorded, for MTV, I think, before they got a record deal. Not only are the videos rare, and they probably haven't been seen by anyone outside of MTV, certainly not in the last twenty years, they also feature Paul Schaffer on keyboards, and Bon Jovi on guitar. I know Paul Schaffer had recorded with Scandal, just before he moved on to do David Letterman's show, but I didn't know about Bon Jovi working on these demos. Or at least, I think that's Bon Jovi, that's what everyone is saying, and it sure looks like him to me. :)
At any rate, I really enjoyed getting to see these videos, and I'm sure you guys will too. I particularly like the second version of "Love's Got A Line On You", that whole sequence from where she says "Say yes, I'm the one" is really nice. Just click on the links to follow them.
Goodbye To You
Love's Got A Line Version 1
Love's Got A Line Version 2

You can probably also find some of Scandal's other videos by following the related links from those pages. I particularly recommend the video that "amidala2915" did for the BBC movie "North and South", set to Patty's incredible "Say What You Will". Although it's not an "official" video, that is my favorite song by Patty, and although I haven't seen the movie, amidala sets it nicely to the music.
VH-1 "We Are The 80's" Scandal CD
I can't POSSIBLY recommend this CD enough, if you're a Scandal fan, you've got to get this album. Not only does it contain three unreleased tracks, there's technically FOUR new tracks on it, because "All My Life", previously available only as the B-side to "Goodbye to You" is also on it. "Win Some, Lose Some" is also on the album, making it the first time all five tracks on the EP have been released on CD. (The other four were on the "Scandalous" retrospective)
Check here for the track list of the CD, as well as the cover pic. (Which is really cute) You can probably find the album on CDNow/Amazon.com or AOL Music.
Yahoo Club
The Yahoo Club dedicated to Patty Smyth and Scandal is still going strong. This is run by Angela Shelton, a great fan that has helped me out with this site over the years as well. Here's the URL of the site: http://clubs.yahoo.com/clubs/pattysmythscandalrocks
New (well, not so new) Patty Smyth album!!!
Patty Smyth's new album "Greatest Hits (featuring Scandal)" is out right now. See below for release dates in Canada and overseas. I'll post other news below as well, so keep checking in for the latest info. For a tracklist from the album, and a sneak peek at that really cute cover, click here. The link will take you directly to the new album's entry in my discography.
Patty is also featured on the new album "Smokin' Section", by Tom Scott. She sings a cover of "Ode to Billie Joe". (Definately one of my favorite songs) The album may be hard to find in the stores (it came out in 1999) but I believe it is still available in Amazon and other online stores. I recommend checking it out.

Fan Club Info
You can write to the Patty Smyth Fan Club at:

The Patty Smyth Fan Club
P.O. Box 591573
Houston, TX 77259-1573

You can reach me much faster than snail-mail can by sending me E-Mail at ryley@phan.org. Please drop me a line if you have any questions or suggestions.



Pictures!
Follow this link to my Pictures Page.

More Info:
Her albums with Scandal and solo, as well as a lot of background vocal work she's done.
Patty's Biography. Yes, written by that Carrie Fisher.
The lyrics to Patty's most popular songs. You can also reach these through the discography.
In the Immortal words of Eric Schwartz, click here for a mediocre collection of links.
---

This page is maintained by yours truly, Richard Ryley, founder of this incarnation of the Patty Smyth Fan Club ca. 1995. If you have any comments, criticisms, or suggestions, drop me a line:

ryley@phan.org The Patty Smyth Fan Club P.O. Box 591573 Houston, TX 77259-1573

This site is part of the domain known as Phantasia. My thanks to Internet America for making this Web Page possible.